Hangprinter With DuetWifi and Two ODrives
26-12-2018
I recently decided to use three circuit boards in my Hangprinter v4 prototype: One DuetWifi, and two ODrives. It turned out to be a challenge to get wiring and communication to work the way I wanted.
I wanted to use stock RepRapFirmware (RRF) on the DuetWifi, and stock ODrive Firmware (OF) on the ODrives. No special "Hangprinter Firmware", only Hangprinter configuration of stock firmware. I wanted to connect the two types of boards directly with jumper wires. No special multiplexers, filters, level shifters or anything like that between the boards.
I aimed for something like this: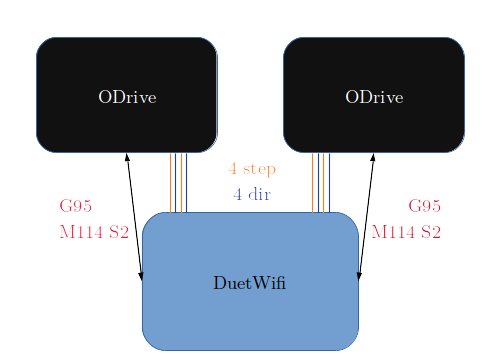 Why The Non-step/dir Wires?
Convenience. Let's call them convenience wires. The step/dir wires can only be used to communicate a desire for incremental movement. Through convenience wires we can tell ODrives to more exciting things, like:
Live PID tuning
Live tuning of min/max speeds and currents
Live configuration of microstepping
Trajectory planning
Interfacing with yet more circuitry, like cameras and load cells
Anti-cogging
Torque estimations via motor current readings
Motor shaft position readings
Enable/disable position control, current control, or velocity control
We want to make ODrives do exciting things by talking gcode to the DuetWifi via wifi, and have the DuetWifi forward commands to the ODrives via the convenience wires.

The first exciting thing I'll focus on implementing in HP4 is better auto-calibration. Anchor positions and line buildup parameters should be calibrated during the same routine, and the user should just have to start this routine and wait for it to finish.
Making Boards Talk About Exciting Things
The basic step/dir communication was straightforward to set up. Both boards and firmwares had good support and documentation already. So we got to feature parity with HP2 quickly. Not super exciting, but a really nice start. With no more than basic setup and a step/dir connection, the ODrives showed promise of being able to make HP4 run really really fast.
The HP3 got beyond HP2 features by talking i2c protocol through convenience wires (and a level shifter). Unfortunately, ODrives lack i2c support. ODrives are only prepared for controller communication via their universal asynchronous receiver-transmitter (UART). To be more precise, ODrives have one pair of Tx/Rx pins with 3V3 logic levels, talking RS-232 with 8-bit words, no parity bit, one stop bit, at a rate of 115200 bits per second.
So, I had to go for UART in the HP4 convenience wires. There were two small problems to overcome:
ODrive Firmware did not support UART and step/dir to be enabled at the same time.
DuetWifi had only one pair of Tx/Rx pins exposed.
Madcowswe, ODrive's main dev, helped solve the first problem real quick. Within a few hours, he added firmware support for step/dir and UART to be enabled simultaneously. I carried out some basic tests of the step/dir communication.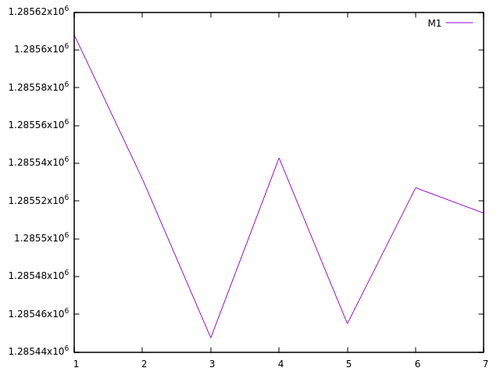 Dc42, who is DuetWifi and RRF's main dev, helped me with the second problem. He told me that one of the DuetWifi's pair of SPI pins were really USART pins, and could be reconfigured in software to act as UART pins. It took me a few days to get the pin re-configuration right, and stock RRF currently doesn't support it. I will of course stay in touch with dc42 and try to get all HP4 functionality merged.
How To Connect And Configure HP4 Convenience Wires
There are 12 communication wires to be connected between the DuetWifi and the two ODrives: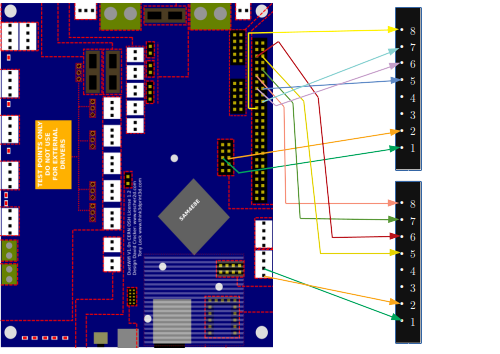 All the pre-compiled binaries and configuration files you need are found in the firmware directory of the version_4_dev branch.
Config Comments
To enable the right pins on the ODrive, use ODrive Tool to send

odrv0.config.enable_uart = True
odrv0.axis0.config.step_gpio_pin = 6
odrv0.axis0.config.dir_gpio_pin = 5
        
... to both ODrive boards. Save and reboot as always after updating ODrive configuration. The pin ordering on the ODrive side might seem a bit funny:
Pin 5: dir axis0
Pin 6: step axis0
Pin 7: step axis1
Pin 8: dir axis1
Explanation axis 1: We simply keep OF default assignments on pins 7 and 8. Explanation axis 0: Pin 5 does not have the low pass filter needed for step signal transmission, only GPIO pins 1, 2, 6, 7, and 8 have such a filter behind them on the ODrive v3.5.

I'm still a bit unsure whether dir signal on the non-filtered pin 5 will work well in the long run. An oscilloscope would be needed to really see if the dir signal quality is good enough. The small tests I've conducted by just counting steps with the encoder have shown no dir errors thus far.

The following gcodes will enable right UART pins on the DuetWifi:

M569 Q0:1:115200  ; Connect ODrive 0 to Serial device 1 at 115200 baud
M569 Q1:99:115200 ; Connect ODrive 1 to Serial device 99 at 115200 baud
        
... and the following gcodes maps step/dir signals to the right pins on the DuetWifi:

M669 K6                 ; This is a Hangprinter
M584 A5 B6 C7 D8 P4     ; map ABCD-axes to ext driver pins (four visible)
        
- tobben